Follow these recommended rides, or ask for advice on local rides to suit you.

ROUTE GUIDE
Pick a route to suite your ability or maybe you just want a relaxing ride to soak up  the scenery and visit local cafes or country pubs. There is something to suite all riders. Please ask if you want something longer or more testing!
ROUTE 1: NIDDERDALE VALLEY – 12 MILES (MODERATE)
PATELEY BRIDGE – LOFTHOUSE – PATELEY BRIDGE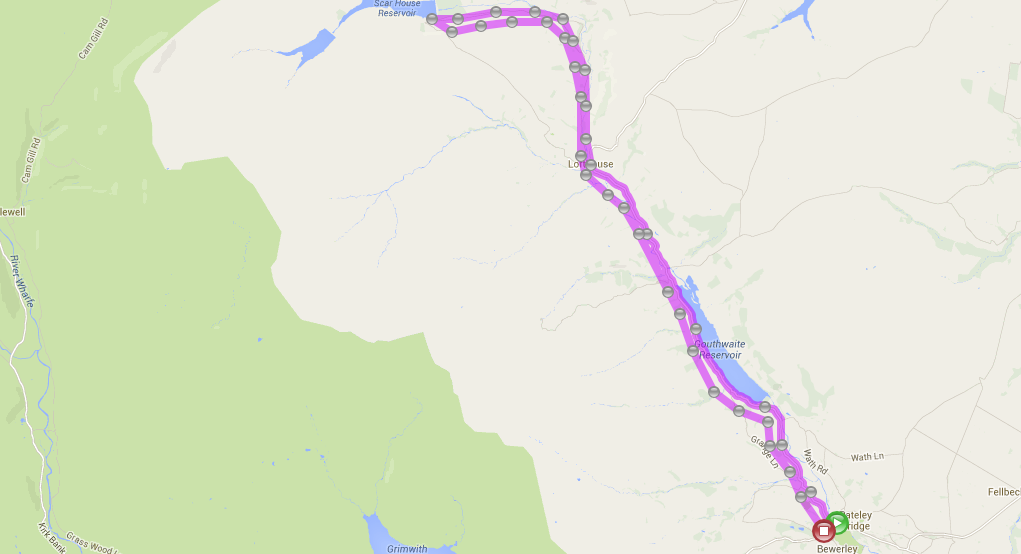 CLICK HERE TO VIEW ROUTE
This route follows the valley bottom from Pateley Bridge, close to Wath where the Sportsmans Arms serves delicious food and local beers.  The road then takes you alongside the beautiful Goutwaite reservoir on to Ramsgill and the Yorke Arms. A short ride from here and you will pass Howstean George with cafe and Studfold farm – a great place to spend a few hours and then finally along to the village of Lofthouse. Here The Crown serves home cooked food and local beers from the Black Sheep Brewery. You can then choose to carry on up to Middlesmoor village (steep hill) or to turn back for a relaxing ride back to Pateley Bridge.  Total ride time without stops: 90 mins
Please also see the link below for a similar route with photo's:
http://www.aucu61.dsl.pipex.com/Pateley%20Bridge%20to%20Scar.htm 
ROUTE 2: PATELEY BRIDGE RIVER TRAIL – 3 MILES (EASY)
PATELEY BRIDGE – GLASSHOUSES – PATELEY BRIDGE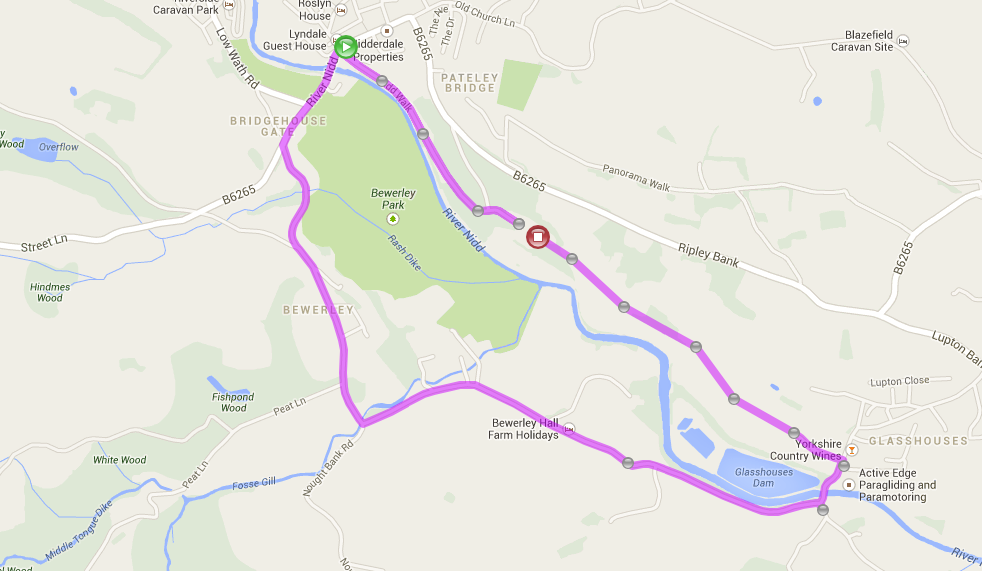 CLICK HERE TO VIEW ROUTE
ROUTE 3: SCAR HOUSE ROAD – 8 MILES (MODERATE)
LOFTHOUSE – SCAR RESERVOIR –  LOFTHOUSE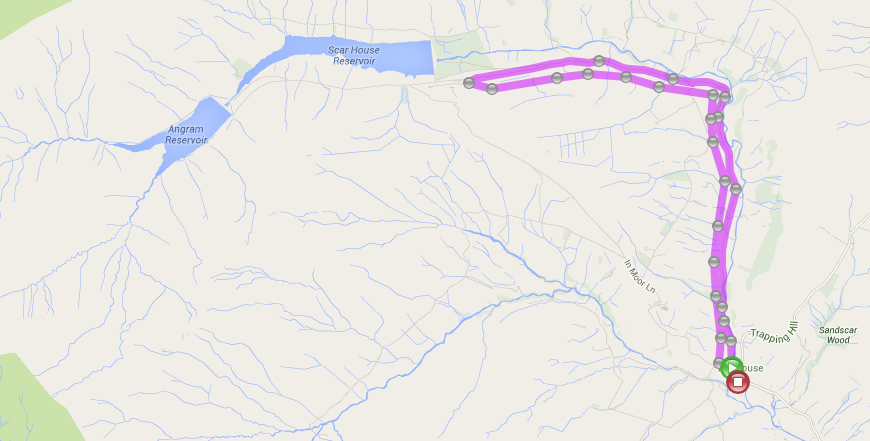 CLICK HERE TO VIEW ROUTE
ROUTE 4: NIDDERDALE GREENWAY – 8 MILES (EASY)
RIPLEY – HARROGATE / KNARESBOROUGH – RIPLEY

This route connects Bilton, North Harrogate, and Knaresborough with Ripley on a fantastic 4 mile converted railway line. There are currrently unsigned on-road connections between Ripley and the Way of the Roses cycle route to the North and the stunning Yorkshire Dales to the west.  Follow the link below!
http://www.sustrans.org.uk/ncn/map/route/harrogate-to-ripley?lat=54.01677650096064&lng=-1.5141518715820368&zoom=13&route-type=all-routes&filters= 
ROUTE 5: GOUTHWAITE RESERVOIR – 10 MILES (MODERATE)
PATELEY BRIDGE – WATH – GOUTHWAITE RESERVOIR – PATELEY BRIDGE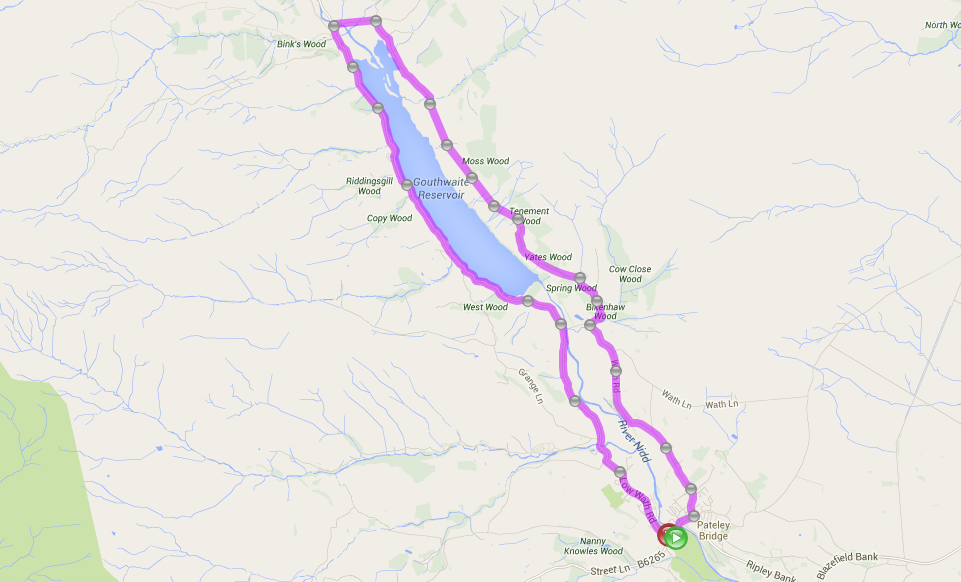 CLICK HERE TO VIEW ROUTE
ROUTE 6: LEAD MINES – 10 MILES (HARD)
PATELEY BRIDGE – HEATHFIELD – LEADMINES – EAGLE HALL – PATELEY BRIDGE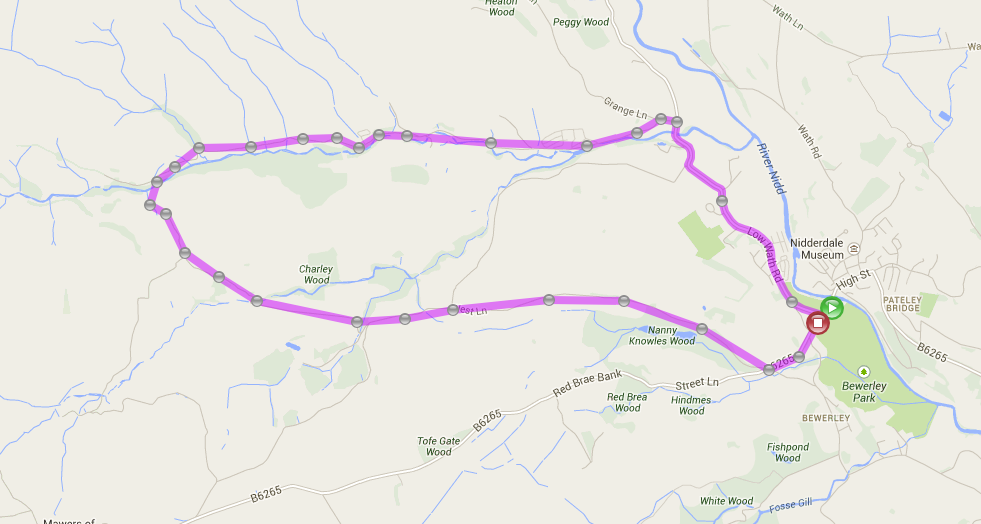 CLICK HERE TO VIEW ROUTE
ROUTE 7: FEWSTON SWINSTY RESERVOIRS – 7 MILES (EASY)
CIRCUIT ROUND BOTH RESERVOIRS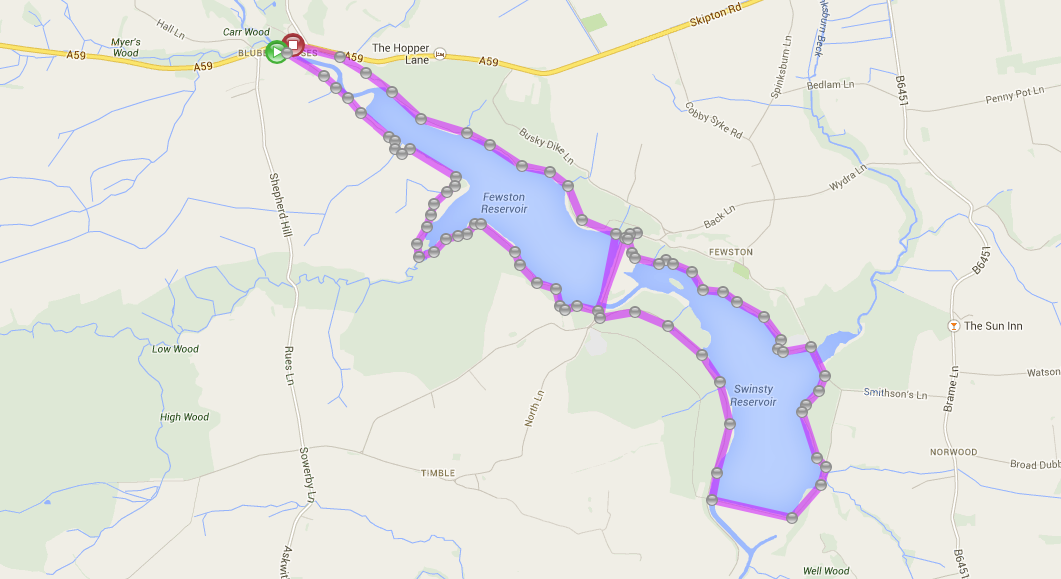 CLICK HERE TO VIEW ROUTE
ROUTE 8: THE SWINSTY AND TIMBLE CYCLEWAY – 5 MILES (EASY)
ALL PUBLIC BRIDLEWAYS IN THE BEAUTIFUL WASHBURN VALLEY
ROUTE 9: THE NIDDERDALE LOOP – 10 MILES (HARD)
ON AND OFF ROAD WITH AMAZING VIEWS WITH SOME STEEP CLIMBS AND DECENTS.
A SHORTER OPTION AROUND SCAR HOUSE RESERVOIR (4 MILES) IS AVAILABLE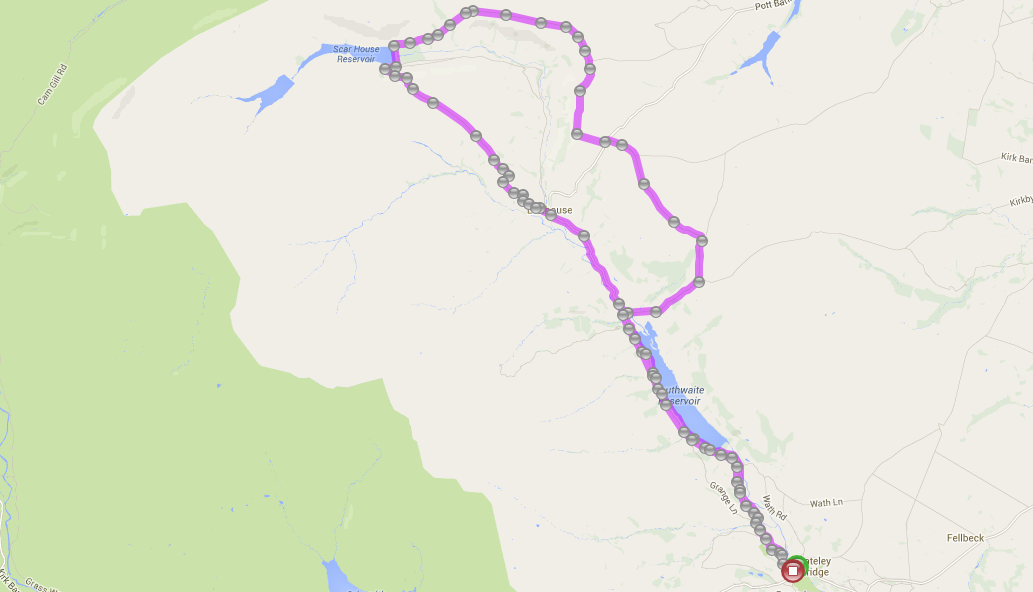 CLICK HERE TO VIEW ROUTE
ROUTE 10: THE WAY OFF THE ROSES – 170 MILES (HARD)
RUNS THROUGH PATELEY BRIDGE AND BRIMHAM ROCKS. WELL SIGNED AND COULD BE RIDDEN IN STAGES